Are you reading the right guide?

This guide is for people applying for a Green Card (officially known as a Permanent Resident Card) as the spouse of a U.S. citizen. In addition, the non-U.S.-citizen spouse is currently living outside the U.S.

If it's not you, let's find the right guide for your situation.
First, congratulations on your marriage! This guide will show you everything you need to file a successful Green Card application without hiring a lawyer. Instead, save that $5,000 lawyer's fee for your lovely honeymoon on the beach. Did you know this cool guide makes a satisfying beach read? 🌴
In this guide, we take the official Green Card application instructions from the U.S. government, and explain them in a language that humans can actually understand. After completing this guide, you can file your application with confidence, and as a bonus, we'll make the process fun!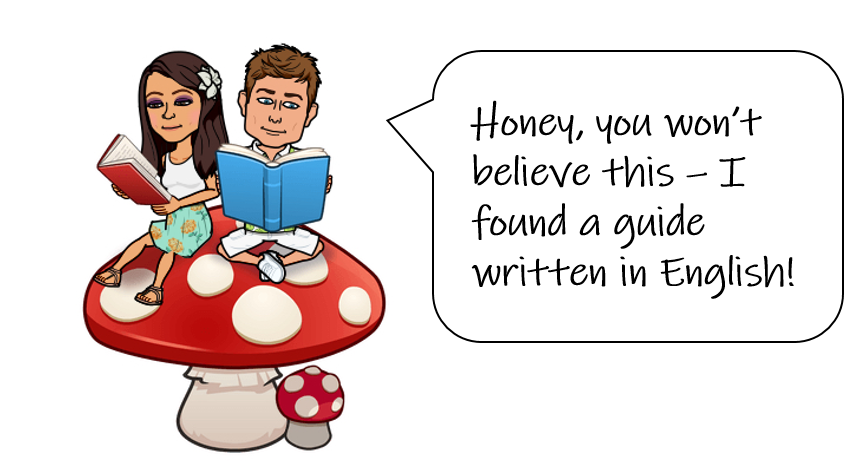 1. Green Card Process Overview
Two Special Words We Will Use

Applicant: The applicant is the person who is not a U.S. citizen and is seeking to receive a Green Card. The applicant is also sometimes called an "alien" or "beneficiary".

Sponsor: The sponsor is the applicant's spouse and is a U.S. citizen. The sponsor will petition on behalf of the applicant for a Green Card. The sponsor is also sometimes called a "petitioner".
This application process (officially called "consular processing") has four steps:
Step 1: The sponsor submits an immigrant petition to establish the applicant's Green Card eligibility (Submission 1)
The petition requires two forms and a set of supporting documents. The U.S. government charges $535 for filing fee, and it takes about 7-10 months to process. (You didn't think it was going to be free, did you? 🧐)
Step 2: The applicant applies for an immigrant visa in order to enter the U.S. (Submission 2)
You'll spend about 3 months submitting various forms and documents to the U.S. National Visa Center. During this time, your wallet will shed another $445 for government filing fees.
Step 3: The applicant prepares for and attends a Green Card interview at a U.S. embassy/consulate
3 to 4 month after completing Step 2, the applicant will go to their closest U.S. embassy or consulate to be interviewed by a consular officer. The applicant will also need to get a medical examination from an embassy-approved doctor. The interview is free, but the doctor's exam costs around $250.
Step 4: The applicant receives a Green Card after entering the U.S.
The applicant pays a final (we promise! 🤞) fee of $220, travels to the United States, and receives his/her Green Card in the mail a few weeks later!
Phew! 😅 That's a lot of stuff and we'll break down each step below. In summary, applying for a marriage based Green Card will take:
Total processing time: 14-18 months. ⏳
Total cost: $1,200 government filing fee + around $250 for medical exam. 💸
Yep, that's a long time and a lot of money. Despite all of this, getting married to a U.S. Citizen is actually one of the fastest ways to getting a Green Card. Did you know it currently takes 😱23 years😱 for Filipino applicants to get Green Cards through their U.S. citizen parents? 1
2. Application Timeline, Forms, Documents, Fees
Let's take a closer look at these four steps in detail. By the end of this section, you will have all you need to know to start your application.
Step 1: The sponsor submits an immigrant petition to establish the applicant's Green Card eligibility (Submission 1)
First, the sponsor submits two forms to "petition" for the applicant's marriage based Green Card. It's basically a way of telling the U.S. government "Hey, I'm a U.S. citizen and I married this person. Let's get their Green Card process started!"
During this step, you'll be dealing with the U.S. Citizenship and Immigration Services (USCIS). It's the government agency that handles Green Card petitions.
The timeline for filing a petition:
Submission 1: The Sponsor Submits Immigrant Petition Forms and Documents to USCIS
The sponsor needs to submit two forms, along with supporting documents: 2
I-130 – Petition for Alien Relative, to be completed by the sponsor. (The US government uses the term "alien" 👽 to refer to foreigners. This can get truly confusing when real aliens from Mars arrive and start filing U.S. government paperwork).
I-130A – Supplemental Information for Spouse Beneficiary, to be completed by the applicant.
Supporting Document List
Passport-style photos of both spouses
Passport-style photos of both the applicant🦊 (2 copies) and the sponsor🐰(2 copies), taken within 30 days of filing the application
Proof that the sponsor is a U.S. Citizen
e.g. U.S. passport, naturalization certificate, certificate of citizenship, U.S birth certificate 
Marriage papers
Current marriage certificate and prior marriage termination documents 📑
Evidence of joint activities
Documents that prove the marriage is real. 💑 For example, joint ownership of property, joint apartment lease, birth certificates of children you had together, photo collection. 3
You can download the forms and instructions from the USCIS website. You'll mail the completed forms and supporting documents in one package to the address specified by USCIS. Don't forget to include the $535 filing fee in the submission package.
Around 2 Weeks Later
USCIS Receipt Notice Arrives
The Receipt Notice confirms that USCIS has received your application. It contains your case number, which you can use to track your case status with the USCIS Case Status Checker.
Around 7-10 Months Later
USCIS Notice of Approval Arrives 😀
Your petition has been approved and it's time for Step 2!
Step 2: The applicant applies for an immigrant visa in order to enter the U.S. (Submission 2)
We are making progress! Now that USCIS has approved the applicant's eligibility to apply for a Green Card, it's time to apply for it!
Since the applicant is currently outside the U.S., applying for a Green Card actually means applying for a special visa called "Immigrant Visa for a Spouse of a U.S. Citizen".4 (We will call it "immigrant visa" for short.) You can think of this immigrant visa as a token for your eventual Green Card: Once the applicant enters the U.S. using this immigrant visa, an actual Green Card will be automatically sent to the applicant without further paperwork.
During this step, you will be dealing with the U.S. National Visa Center (NVC), which is part of the U.S. Department of State. NVC is the government agency that handles immigrant visa applications.
The timeline for applying for an immigrant visa:
Around 3 Weeks after USCIS Notice of Approval
Welcome Letter from NVC Arrives
The Welcome letter from National Visa Center contains your unique case number and invoice ID number. 5 You will need these numbers for filing future applications, so make sure to save the numbers and only share them with people you trust. 6
Submission 2 – Item 1 of 3: The Applicant Submits Form DS-261
Form DS-261 – Choice of Address and Agent, is a simple form you use to appoint a person (called an "agent") who will receive NVC communication. You can appoint yourself as this agent, or appoint any other person you trust. 7 Don't appoint any actual extraterrestrials 👽, though.
You can fill out and submit Form DS-261 using an online tool provided by NVC called the Consular Electronic Application Center, or CEAC. To log into CEAC, use the unique case number and invoice ID number you received in the Welcome Letter. Then follow the instructions on CEAC for DS-261. 8
Around 3 Weeks Later
Receipt Notice for DS-261 Arrives
Submission 2 – Item 2 of 3: The Applicant Pays Processing Fees
NVC charges two processing fees. They can be paid online through CEAC:
Immigrant Visa Application Processing Fee ($325) 9
Affidavit of Support Fee ($120) 10 – Explained in detail below.
For payment, you will need to provide a bank routing number and a checking or savings account number from a U.S. bank. 11
Around 1 Week Later
Notice of Successful Fee Processing Arrives
Submission 3 – Item 3 of 3: The Applicant and the Sponsor Submits Application Forms and Documents to NVC
Part 1
Form DS-260 –  Application for Immigrant Visa and Alien Registration, is a long form that collects the applicant's personal information, addresses, family members, U.S. travel history, employment history, education history, medical history, criminal history, etc.
You can fill out and submit DS-260 online through CEAC.
Part 2
The applicant and the sponsor need to complete the following three items and submit them in ONE package to NVC:
Collect supporting civil documents for DS-260 (completed by the applicant)
You'll need to gather supporting civil documents, which are listed on the NVC website. They include photocopies of the following documents, along with their translations (if the documents are not written in English, or in the official language of the country in which the applicant is applying for the immigrant visa):
Birth certificates
Passport Biographic Data Page
Marriage certificates
Divorce papers for previous marriages from both spouses
Military Records
Court and prison records
Police Certificates
💰Read this paragraph only if you want to save money💰
Contrary to what commercial translation companies will have you believe, supporting documents like birth certificates can be translated by anyone who is fluent in both languages, and willing to swear as such to the U.S. government. It can be a friend or a colleague, as long they follow the instructions outlined by USCIS and the Department of State.
Complete Form I-864 (completed by the sponsor)
I-864  – Affidavit of Support, is a form used to show that the sponsor can financially support the applicant in the U.S., if necessary. The form gives the U.S. government assurance that the applicant will not be consuming government assistance such as welfare and food stamps after s/he moves to the U.S..
Form I-864 will collect information to determine if the sponsor can meet the minimum income requirements, which is greater than or equal to 125 percent of the current Federal Poverty Guidelines for the sponsor's household size (only 100 percent of the Federal Poverty Guidelines if the sponsor is on active duty in the U.S. Armed Forces or U.S. Coast Guard).
If the sponsor's income is not enough, there are other acceptable ways to meet the minimum income requirement, such as adding income from other household members, adding a joint sponsor, or adding your assets. However, these options will require additional forms and GreenCardHero currently does not support them.
Collect supporting financial documents for I-864 (completed by the sponsor)
The sponsor will also need to gather the supporting financial documents listed in the Form I-864 instructions. If the sponsor plans to satisfy the I-864 minimum income requirements using only his/her own income (this is the case that GreenCardHero currently supports), documents in the following categories are required:
IRS Tax Transcripts
This is a receipt of your tax return, not the actual tax return you filed with IRA. You can order Tax Transcript from the IRS here (and surprise – this service is actually free!)
Evidence of income
E.g. employment letter, pay stub.
Proof of domicile
If the sponsor's mailing address and/or place of residence is not in the United States, write an explanation and provide documentary evidence indicating how the sponsor meets the domicile requirement. (Explained in detail in GreenCardHero)
Submission method for this package varies by your filing location. See the NVC instruction for your specific case.
Immediately Available Online After Submission
Receipt Notice for DS-260 Arrives
Around 3 Weeks Later
NVC Approval Notice Arrives 😀
Your application has been approved and it's time for Step 3!
Step 3: The applicant attends a Green Card interview at the applicant's closest U.S. embassy or consulate
Good job on finishing all the paperwork! Now it's time for an in-person interview with a U.S. consular officer. The interview is an opportunity for the U.S. government to double check that you indeed qualify for an immigrant visa. Only the applicant is required to attend the interview. However, if the sponsor is available, we recommend that the sponsor attends as well to show support.
The timeline for interview:
Around 1-2 Months after NVC Approval Notice
Interview Appointment Letter Arrives
After NVC schedules your interview appointment, you will receive a letter noting the appointment date, time and location. The letter usually arrives around one month before the scheduled interview date. 12
The Applicant Completes Pre-Interview Activities
The pre-interview activities must be completed before the interview date. The activities required vary from embassy to embassy. Use this NVC webpage to select your embassy/consulate and get a Pre-Interview Checklist specific for your case.
Some common requirements include:
Medical Exam
The applicant is required to schedule a medical appointment with an authorized doctor in the country where the applicant will be interviewed. The interview appointment letter you receive will provide information on how to find an embassy-approved doctor.
Gather Documents Required for the Interview
These documents include the original version of all civil documents and financial documents submitted to NVC, copies of those documents, and other documents specified in the interview appointment letter.
Embassy/Consulate Specific Requirements
For example, many embassies and consulates require the applicant to register for passport delivery service before the interview. To get the full embassy/consulate specific requirements, use the NVC Pre-Interview Checklist.
Around 1 Month after Receiving the Interview Appointment Letter
The Applicant Attends the Interview
The day is finally here! Put on your cleanest shirt and arrive at the interview at the scheduled date and time. The sponsor's attendance is optional. They probably won't call you on time, but, hey, at this point you are a master at waiting for the government, right?
During the interview, a consular officer will ask the applicant a series of questions to confirm that the applicant:
Has never committed a crime
Hasn't defrauded the U.S. government
Hasn't been deported
Has no serious diseases
The marriage is real
Has financial support
Read our article on what to expect at the Green Card interview.
A Few Weeks Later (varies by embassy)
Passport with Visa and Sealed Immigrant Packet Arrive 😀
Yay! You made it! The visa will be valid for 6 months and you can use it to travel to the U.S.. The sealed Immigrant Packet is to be handed over to the border customs official when you enter the U.S.. Keep the packet sealed. Again: Don't… Open… The Packet!
Step 4: The applicant receives a Green Card after entering the U.S.
Congratulations, you've arrived at the easy last step! Once you receive the immigrant visa, you need to travel to the U.S. within 6 months before the visa expires. Once you enter the U.S., the U.S. government will send you the Green Card through mail.
The Applicant Pays Immigrant Fee
Before we are done, the U.S. government needs to get paid one more time…
USCIS charges an Immigrant Fee of $220. 13 Pay it through the USCIS website after you receive the immigrant visa and before you travel to the U.S.. (What is this fee for? As far as we can tell, this fee is primarily an opportunity for USCIS to squeeze some final dollars out of you. Welcome to America! 🇺🇸).
The Applicant Travels to the U.S. within 6 Months
Make sure you come to the U.S. before your visa expires! Immigrant visas are usually valid for 6 months, but double check yours to make sure. 14
Once you arrive in the U.S., go through the border customs and present the sealed Immigrant Packet (you kept it sealed, right?!) to a customs official. You will then be admitted into the country.
Around 2-3 Weeks Later
Green Card Arrives in the Mail! 🎉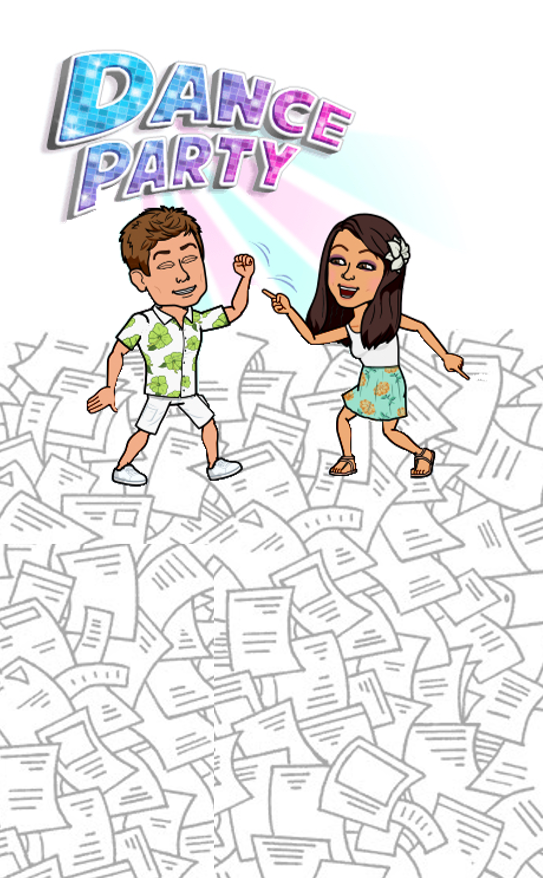 3. Should I DIY my application or hire a lawyer?
The answer: it depends on how complicated your case is.
Use our DIY or Lawyer quiz to find out what strategy works the best for your particular case.
In general, if you don't have immigration violations, past criminal offenses, or a previously denied application, then the application is straightforward and you should be able to complete it yourself without a lawyer. Each application step comes with detailed government instructions. If you take some time to read them thoroughly, it's not difficult to figure out what to do.
If you want to doubly ensure accuracy, you can hire a lawyer before submission to review your completed application. That is usually pretty cheap.
4. How to track application processing time?
In Steps 1 and 4, your application is handled by USCIS. Use the USCIS Case Status Checker and enter your case number, then you can see the processing status of your case. In addition, you can use the USCIS Case Processing Times Checker to see the processing time range for Form I-130 at different USCIS office locations.
In Steps 2 and 3, your applicant is handled by NVC. Use the Consular Electronic Application Center to track your case status.
If you have questions about your case, you can reach USCIS and NVC representatives by phone or online for assistance.
While you are waiting, it is important to keep on top of immigration policy changes. Especially starting from Trump's presidency, immigration policies change almost every month.
Stay on top of the changes with the GreenCardHero Newsletter:

How do I preserve sanity during the wait?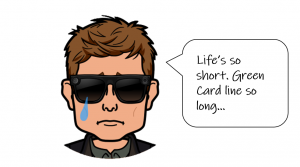 Based on my own experience, the long application process can get very frustrating – feeling suspended in uncertainty is not fun. Unfortunately, none of us can speed up processing speed (except President Trump perhaps?).
I found it helpful to join an online immigration forum and feel like part of a community that is going through this together. I also found it helpful to keep myself engaged with other activities in life, so I wouldn't think about "the G" ("g" from Green Card) that much.
Ultimately, the time will come when a fateful USPS letter arrives in your mailbox. You pick it up and feel a thin and sturdy object inside, perfectly rectangular with slight rounded edges. You carefully open the envelope, and there it is – a Green Card, shrouded in an ornate tapestry and soft hues; through a fine layer of misty Atlantic fog, the statue of liberty greets you with a gorgeous smile. This journey has made you older and wiser, and congratulations, you've now got the key to America!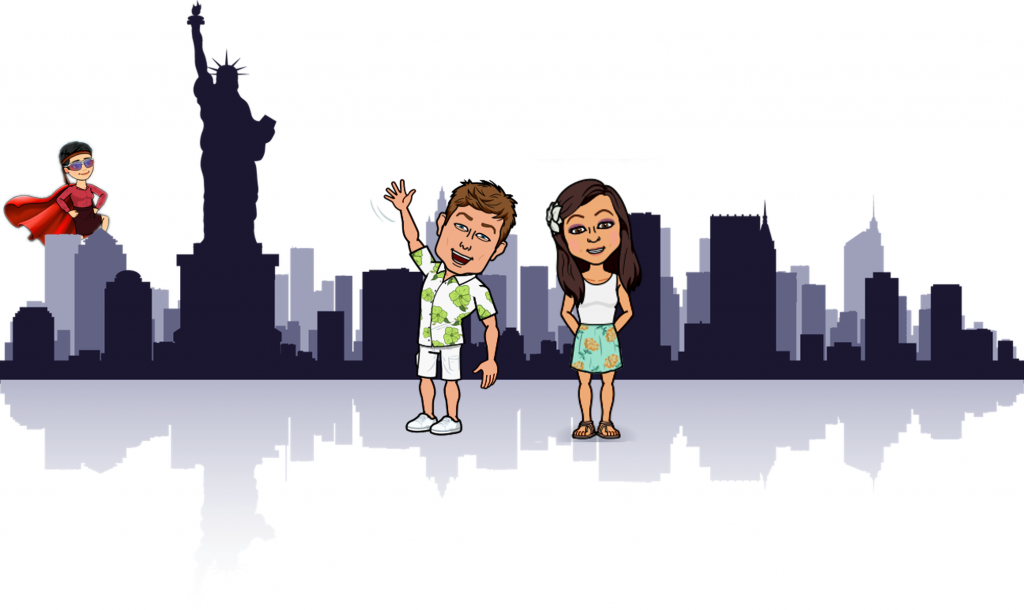 Related Posts